Proven Interconnect Solutions
Industry-Leading Innovation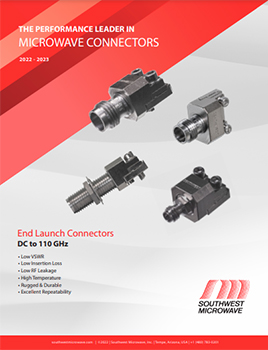 Southwest Microwave continues to evolve our end launch connector offerings with new robust standard and narrow block thread-in models. See the complete line in our new brochure.
Receptacles | Bullets | Adapters | Cable Connectors and Assemblies
Resolve tight board spacing and misalignment challenges using Southwest Microwave SuperMini Board-to-Board solutions.
Southwest Microwave continues to innovate to meet evolving connectivity needs up to 90 GHz with our new 1.35mm (E) Series. See our latest precision adapters in the series: between-series 1.35mm to 1.0mm female to female model #222410-00SF and male to female model #222410-00SF.